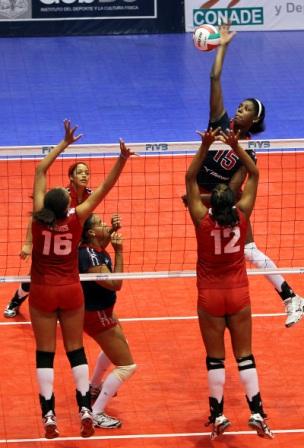 Dominican Republic shows big potential
TIJUANA, Mexico, July 6, 2010 – Dominican Republic jumped off to a fast start in Pool A of the NORCECA Women's Junior Continental Championship by claiming a 3-0 (25-12, 25-8, 25-6) victory over Costa Rica in the ten-team competition.
Dominican Ana Yorkira Binet fired 24 points to lead the winning attack while Elizabeth Martinez and Candida Arias each contributed 8 points. Marianne Fersola and Alicia Moreno charted 7 apiece. Costa Rican Mijal Hines led the losers with 10 tallies.
The winners dominated at the net scoring 13 points via blocks including 4 and 3 by Martinez and Arias respectively.
"Our objective was to allow the lesser points possible in preparation for a possible direct pass to the semi finals," Dominican Republic's Coach Wagner Pacheco said. "We respected the Costa Rican team and played hard. For a first match our girls played very loose."
"Our team had the purpose of entering the court to show all of our potential and each one played hard," Dominican Captain Yeniffer Ramirez commented.
"They played with all their strength in every point and were better than us in each area of the game," Costa Rican Andres Carvajal said.