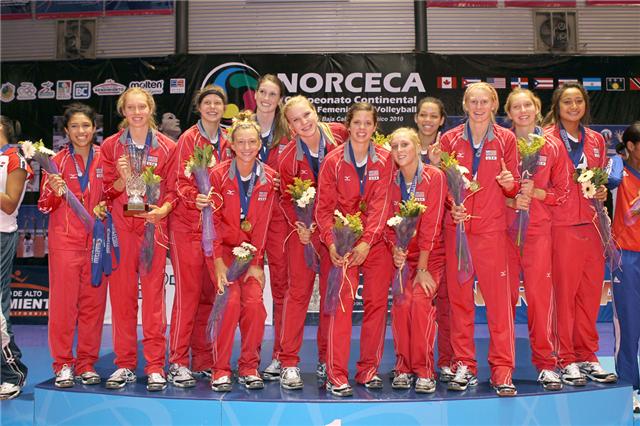 USA extends winning streak in NORCECA Women's Junior
TIJUANA, Mexico, July 10, 2010 – United States defeated Dominican Republic in consecutive sets (25-22, 25-20, 25-20) to win its fourth consecutive gold medal and fifth overall in the NORCECA Women's Junior Volleyball Championship. The Dominicans have been runners-up on each of the last four editions.
Kelly Reeves, the only American in double figures, was the match's top scorer with 15 points. Jane Croson and Stephanie Holthus added 8 and 7 points respectively. Dominicans Ana Yorkira Binet, Marianne Fersola and Candida Arias recorded 14, 12 and 10 points.
"We are very happy about winning against a great team like Dominican Republic," USA Coach Robert Browning said. "We didn't play perfect but you can't do that against that kind of opponent. But the girls kept the calm y played consistently during the whole week."
Brazilian Coach of Dominican Republic Wagner Pacheco said: "It was a superb tournament and USA didn't lose a single set. It was a good match but we failed some key points at the end of the sets. I am a little bit sad but also satisfied because we achieved the goal of winning a medal and reaching the World Championship."